SALE 10%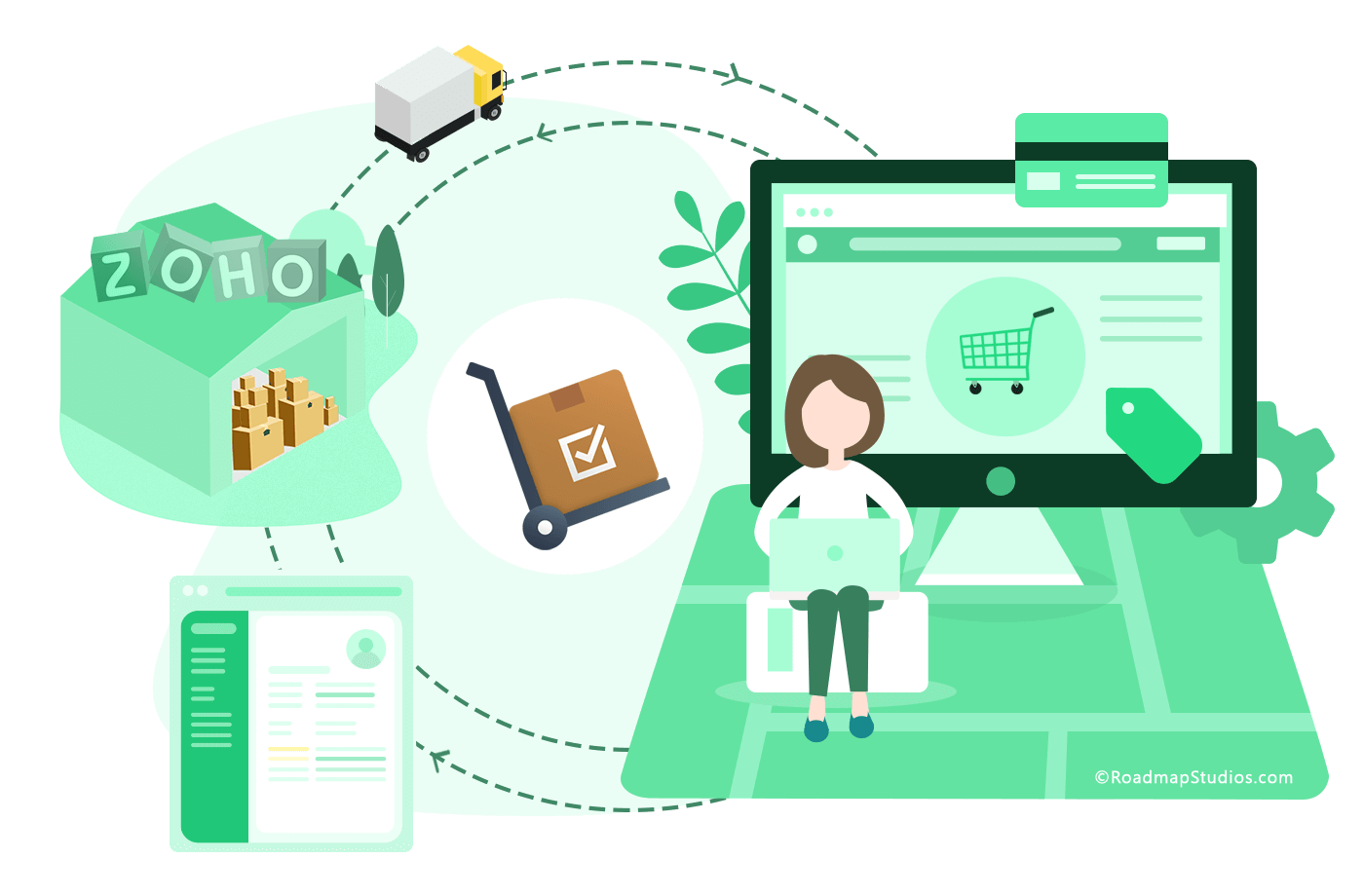 Connect your WooCommerce shop in real time with your Zoho Inventory. Tested and approved by Zoho!
Features:
| | | | |
| --- | --- | --- | --- |
|   | Start | Connect | Pro |
| Sync Customers | ✔ | ✔ | ✔ |
| Sync Orders | ✔ | ✔ | ✔ |
| Orders Custom Fields | ✔ | ✔ | ✔ |
| Multi-currency support | ✔ | ✔ | ✔ |
| Simple Items | ✔ | ✔ | ✔ |
| Grouped Items | ✔ | ✔ | ✔ |
| Bi-directional Sync | ❌ | ✔ | ✔ |
| Zoho Pricelist | ❌ | ✔ | ✔ |
| Composite Items | ❌ | ❌ | ✔ |
From: €10.00 excl. vat / month
Details
Share this
Refund Policy
Play with it, put different features to use for full 15 days. If there's even one feature that doesn't work as claimed and we are unable to resolve your ticket in 48 hours – get a 100% refund on your purchase.*
*Annually Billed Subscriptions Only. Also please read FAQ.
---
Documentation
Changelog
Version 2.3.1 – 05-10-2020
Fix: stock not always syncing in cron
Fix: manual item sync from settings
Version 2.3.0 – 05-05-2020
New: Support for multi-currency orders
New: Paid Woo orders will be synced as confirmed orders automatically to match the stock
New: Cancelled woo orders will get void in Zoho automatically
New: Disable item name sync for the cron script
Fix: Custom fields mapping for orders
Fix: Zoho item prices sync as regular price in woocommerce
Version 2.2.2 – 04-27-2020
Fix: JSON Malformed error on order sync
Tweak: refactored order sync functions
Version 2.2.1 – 04-24-2020
New: syncing subcategories to and from Zoho
New: support for EU VAT number for UK edition
Fix: contact sync from edit order in woocommerce
Version 2.2.0 – 04-20-2020
New: Pricelist based on Userrole (requires B2B plugin)
New: Select Warehouse for Orders
Tweak: Moved orders functions to new tab 'Orders'
Tweak: Now sending item rate in sales order
Tweak: Get item meta function improved
Fix: Item names now parsed for special characters
Fix: Address_2 field now mapped with Zoho Contact
Fix: Stock key in Cron is now actual_available_for_sale_stock
Version 2.1.0 – 03-27-2020
New: Syncing Variable Products as Grouped Items
New: Zoho Pricelist to WooCommerce (Beta)
New: Support for wc subscription product type and signup fee
Tweak: Improved performance in loading thankyou page
Version 2.0.6 – 03-22-2020
Fully compatible with WooCommerce 4.0
Tweak: improved contact mapping on checkout
Fix: now syncing available_stock instead of stock_on_hand in cron
Version 2.0.5 – 02-18-2020
New: minimum PHP version 7.2 checker
Fix: Fixed duplicated image import on some hosting providers
Fix: stock sync in background process
Fix: removed stock_on_hand sync as its not allowed by Zoho
Version 2.0.4 – 02-05-2020
New: zoho_item_id now visible on product edit tab
Fix: sync bundle item from woocommerce product edit
Fix: update stock from woocommerce product edit
Version 2.0.3 – 01-24-2020
New: check-all categories on Cron tab
Fix: contact sync on admin order sync
Version 2.0.2 – 01-22-2020
New: support for virtual products -> synced as service to Zoho Inventory
Improved registration by hiding checkout form if not logged-in
Fix: composite item sync would sometimes sync as simple items
Version 2.0.1 – 01-17-2020
New: support for pricing incl. tax
New: custom registration label as setting on connect tab
Improved contact sync on manual order sync
Version 2.0.0 – 01-14-2020
Removed multistep process
New: Support for Product Addons
New: Orders tax rates will now be dynamic
Fix: Manual items sync due to ajax error
Refactored codebase: 50% smaller in plugin size
Version 1.6.2 – 12-12-2019
Improved: Moved order sync to separate script
Improved: Guest checkout allowed if sales order sync is disabled
Removed: thankyou.php template
Version 1.6.1 – 11-27-2019
Tweak: Improved support for Staging sites
Removed unused code
Version 1.6.0 – 10-25-2019
New: Sync Product Details (weight, length, width, height)
New: remove connection function
Tweak: Moved connection tab to beginning
Tweak: Switched to WC_Logger for logging orders
Version 1.5.4 – 10-01-2019
Improved variable items sync
Guest checkout will be disabled automatically
Version 1.5.3 – 09-19-2019
Tweak: added instructions on tabs
Fix: product categories in sync
Version 1.5.2 – 09-16-2019
Fix: variable product prices during sync
Fix: orders log table was not created in DB
Fix: connection to Zoho lost when updated
Fix: page index notice
Version 1.5.1 – 09.05.2019
New: Send Orders as Confirmed to Zoho
Tweak: Added Product_ID in sync email notification
Fix: Cronjob double API calls
Fix: Shipping address as Billing address if empty
Version 1.5.0 – 09.02.2019
Support for Composite items (requires Product Bundle plugin)
Switched to Real-Cron (this requires cPanel cron setup)
Improved performance
WooCommerce 3.7 support
Version 1.4.0 – 07.18.2019
New: Custom Field mapping of Sales Orders
Fix: stock status corrected if in stock
Version 1.3.2 – 07.01.2019
New: background processing of contacts sync
Tweak: Image import with item_id as image name
Fix: license activation issue
Version 1.3.1 – 06.20.2019
New: background processing of items sync
New: Zoho Item Description synced as Product Description
Version 1.3.0 – 06.04.2019
New: enable auto order number by Zoho
Fix: prevent same image getting imported at cron
Fix: prevent update of initial stock
Fix: contactperson had no email address
Version 1.2.1 – 05.28.2019
Fixed image cron import by assigning author
Removed unused code
Version 1.2.0 – 05.23.2019
Fixed category_id issue during sync
Fixed order manual sync when customer created manually or already existed
Tweak: dynamically getting terms url for sales order
Version 1.1.7 – 05.16.2019
Fixed stock level issue on manual sync
Version 1.1.6 – 05.08.2019
Fixed items import by using selected categories of cron tab
Blocked My-Account Billing fields that can break the sync
Version 1.1.5 – 05.06.2019
New: disable stock of items sync
Bugfix: removed initial stock sync after sales order
Version 1.1.4 – 05.03.2019
Fixed image sync issue
Fixed duplicated items in woocommerce on SKU match
Version 1.1.3 – 04.22.2019
Updated category cron sync with new method for faster sync as recommended by Zoho.
Version 1.1.2 – 04.10.2019
Improved license key check
Version 1.1.1 – 04.08.2019
Fixed cronjob issue
Improved item sync with auto-mapping items that already exists in Zoho
Small bugfix
Version 1.1.0 – 04.05.2019
New: support for Zoho Items Category during import and sync
New: Log for Cronjob
Tweak: improved log of orders
Version 1.0.3 – 03.26.2019
Removed email_id from contact update due to API issues
Fixed company_name in contact update
Version 1.0.2 – 03.17.2019
Fixed stock level enabling in woocommerce
Changed labels names in settings
Version 1.0.1 – 03.05.2019
Fixed cronjob disabling
Added notification of cronjob disabling
Version 1.0.0 – 03.01.2019