The best all-in-one CRM Suite.
Zoho CRM unites your customer-oriented teams with one all-in-one software and offers them visibility of every customer interaction. Give your teams the technology they need to give your customers a better experience.
Try it for free
15-day trial period.
Nowhere fixed. No payment details needed. Or let us call you back for a free demo.
Complete Customer Central
Today's customers are ready to be involved across multiple channels. Zoho CRM Plus offers the first multi-channel customer engagement platform in the industry, allowing you to bridge the gap between your sales, marketing and support teams. Offer the best customer experience on every channel: phone, e-mail, live chat, surveys and social media.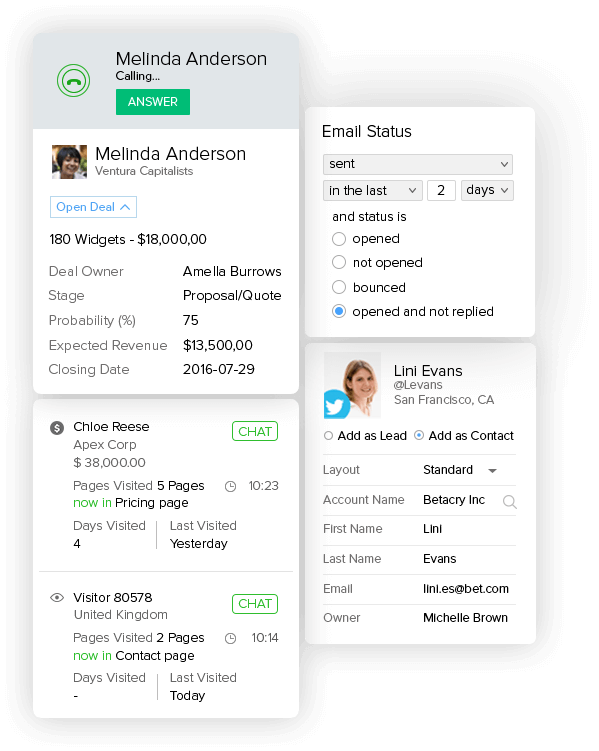 Give your customer-focused teams the flexibility to collaborate in real-time and communicate deliverables across all departments. Zoho CRM Plus gives your teams access to a shared customer database and real-time messaging tools so that each team member can work together to deliver a consistent customer experience before, during, and after a sale.
Customer insight is the key to a positive customer experience. Zoho CRM Plus helps your customer-focused teams collect information and gain insights from the many touchpoints of today's complex complex life cycle.
We define productivity as improving your business processes and making them simple. From prospect to payment and everything in between, with Zoho CRM Plus you can turn your complex business processes into automated, efficient workflows. Improve every part of your business in all your departments and keep your teams efficient.
Zoho CRM Plus offers a full range of mobile apps to help your teams stay up-to-date, ready to bind customers and make decisions on the go.
Let your team get started from the very first day, with minimal implementation time and costs. Manage your teams systematically, but they scale over time, with features such as a centralized manager window and a single billing cycle.
From the start, to the current situation, to throwing screenshots and giving updates throughout the development cycle.

Graham Hoffman

AirsoftNation

Just wrapped up a project with Roadmap Studios. Polite and professional throughout. Recommended.

Nathan Rice

Siam NGK

Flexibility, Expertise and Professionalism are 3 core values ​​that I like to assign to Roadmap & Fawad. He has been fully responsible (and still is) for the Go Lemon and Go Lime sites. Both Woocommerce shops are designed and built by him. I can recommend Roadmap to everyone!

Bas van der Putten

Go Lemon

Fawad is one of our trusted partners for custom app development. He knows the AppPresser platform and can customize it to everything.

Scott Bolinger

AppPresser.com

It is a professional company, with a great customer care. They are flexible professionals who are able to listen to customer needs.

Emanuele Renzi

www.ilvillaggiodiemmaus.it

Great work by Fawad. A very professional and efficient service!

Emma Tweddle

StormSportsX