Bas van der Putten is one of those entrepreneurs that you know will have a big impact. When he approached me with his idea about leasing the latest iPhones at an affordable price, I was immediately sold. After some sparring and brainstorming about the idea and vision, we have successfully realized everything in a state-of-the-art e-commerce website.
Requirements
The start-up has a lease business model of physical products (new iPhone's) for the Dutch market. All processes had to be automated, from purchasing, sales, invoicing and collection. Go lemon wanted a customized ordering process for its customers. After the customer has selected an iPhone, he / she has to enter the postcode + house number. The store validates these two variables and fills in the address. The customer receives a financial credit check via Experian when all personal information is completed. After the financial approval the customer can complete his order. We have automated all processes, from order to delivery and accounting, so that Bas can fully focus on sales and marketing.
Delivery
We started working from the backend to the front end, just like all our projects. The result is breathtakingly beautiful and very focused on conversion. Customers will receive a few simple choices that will lead them to the right iPhone and the lease plan. We have also succeeded in simplifying the settlement process and connecting it to a powerful subscription platform Mollie, which handles the subscription payments.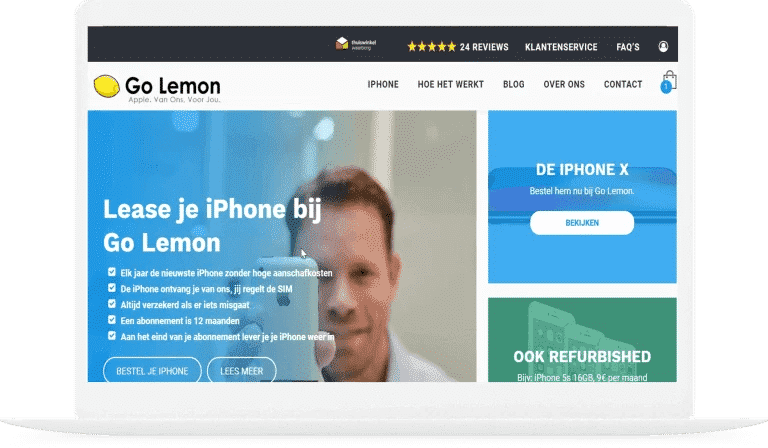 View the result here: www.go-lemon.nl
This project is still ongoing.